The Iowa Composers Forum 2019 Summer Festival of New Music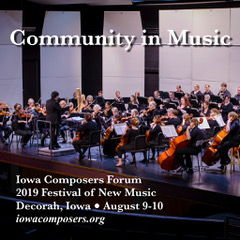 The Iowa Composers Forum 2019 Summer Festival of New Music will occur on August 9th and 10th in Decorah. The festival will present three performances of new work by living composers from Decorah and across the state. These performances will feature solo and chamber music pieces, vocal music, orchestral works and electronic music. The festival concerts will be held at The Lingonberry on Water Street on Friday evening at 7 P.M. and in the Noble Recital Hall in campus of Luther College on Saturday the 10 th at 3 and 7 P.M. All concerts are free and open to the public.
The theme of the festival this year is 'Community in Music.' The festival opens Friday evening with an exciting mix of ultramodern electroacoustic music. Luther College visiting professor Jonah Elrod and Craig Hultgren on the ecello will be part of the night's lineup. On Saturday afternoon, the festival will feature the Oneota Valley Community Orchestra under the direction of Matthew Cody at Luther College. The OVCO program includes Decorah composers Ben Hippen and Philip Wharton who now resides in New York. Then on Saturday evening at the college, the Epinoia String Quartet will play. The quartet is comprised of Nicole Cody and Kayla Scholl – violins, Benjamin Kratchmer – viola and Ivan Caluya – cello. Nearly 20 composers will be on hand for performances of their compositions including Luther College's composer-in-residence Brooke Joyce.
The Iowa Composers Forum held its annual festival in 2017 in Decorah and returns again this summer to present the newest of the new, some of Iowa's master composers and the young next generation of writers in modern music. The 2019 Summer Festival of New Music is sponsored by the Marion E. Jerome Foundation and The Depot Outlet. All festival concerts are free and open to the public.
To hear an interview with ICF chair Craig Hultgren regarding the Summer Festival, click here.
To view a program of activities for the festival, click here.