Featured Composer: Lisa Neher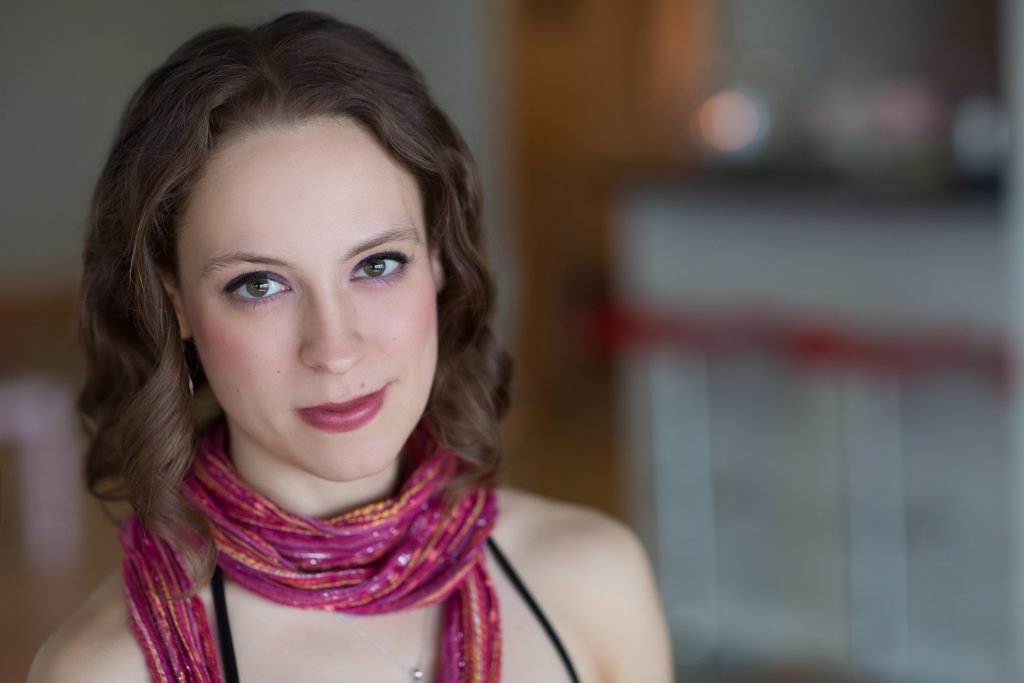 Mezzo-soprano and composer Lisa Neher (DMA) thrives in the crossroads of the concert hall and the theatre stage. Trained as a stage actress, she is equally at home in the worlds of opera and spoken theatre, bringing dramatic specificity and committed physicality to her performances. Lisa's compositions are shaped by her keen sense of dramatic timing and feature aching, lyrical phrases, energetic rhythmic motives, and intensely dissonant pitch clusters.
Lisa's compositions include solo and chamber music for instruments and vocal works in the operatic, song, and choral genres. Her particular passion for text and poetry has led to works such as her chamber opera White Horizon, about a nineteenth-century Arctic expedition gone wrong, and her song cycle Snapshots, which she performed at the Cortona Sessions for New Music in Italy. Lisa was selected to be part of the inaugural year of the Gabriela Lena Frank Creative Academy of Music, which mentors emerging composers. Her commissions include works for Durward Ensemble, Coe College Symphony Orchestra, the Glass City Singers, Resonance Saxophone Ensemble, Kirkwood Community College Chamber Singers, flutist Rose Bishop, pianist Michael Kirkendoll, and violinist Caitie Moritz. Her marimba duo, Thaw, was written for Mayumi Hama and Chris Froh and premiered at the Sacramento State Festival of New American Music. Recently, Lisa was Composer in Residence at Saint Xavier University's honor band festival in Chicago, featuring the premiere of her concert band work, In Motion. Lisa is the social media manager for Cascadia Composers and is also a member of the Iowa Composer's Forum and ASCAP.
Lisa's musical-theatrical fluency and passion for contemporary music have led to engagements such as the first staged version of Sun Songs: Three Micro-Operas by Augusta Read Thomas with the Center for New Music, the world premiere of Aaron Israel Levin's Fiumana, for mezzo-soprano singing while playing the bass drum, and the leading role of Jennifer in the world premiere of Rita Ueda's chamber opera One Thousand White Paper Cranes for Japan with the Singaporean ensemble Chamber Sounds. Lisa is an active advocate for new music, frequently premiering new works as well as established masterworks of the last fifty years. She has performed with the Iowa Composer's Forum on multiple occasions and premiered songs by winners of their student composer competition in the spring of 2018. Lisa is the creator of the One Voice Project, a one-woman performance combining contemporary poetry and new musical works for unaccompanied voice chosen through a call for scores initiative.
Lisa has  has served on faculty at Lewis & Clark College in Portland, Oregon, Coe College and Kirkwood Community College in Cedar Rapids Iowa and Grinnell College in Grinnell, Iowa, teaching applied voice and applied composition, and maintains a vigorous private studio. Lisa graduated summa cum laude from Lewis & Clark College with degrees in vocal performance, music composition, and theatre, and holds a master's degree in music composition from the University of Kansas and a Doctor of Musical Arts in voice performance and pedagogy from the University of Iowa. Her doctoral essay explores the chamber vocal works of composer Gabriela Lena Frank. She is a vocal student of Stephen Swanson, Katherine Eberle, Julia Broxholm, and Susan McBerry, and studied composition under the tutelage of Michael Johansen and Forrest Pierce.
Born just south of Seattle, Lisa is an outdoor enthusiast and triathlete. In the spring of 2019, after 9 years living in the midwest, she returned to her roots and moved to Portland, Oregon. She remains active with Iowa Composers Forum with frequent trips back to Iowa to collaborate with fellow composers and musicians. She spends her free time distance running, watching science fiction movies, and baking delicious treats involving copious amounts of chocolate.​ For more information, visit her website, www.lisanehermusic.com, or follow her on social media: @LisaNeher on Twitter, @lisanehermezzo on Instagram and on her Facebook Page: Lisa Neher, Mezzo-Soprano & Composer.
Featured Track: Thaw by Lisa Neher, performed by Mayumi Hama and Chris Froh.