Duo-B Spring Performances (February 15, 2020)
The Iowa Composers Forum is excited to announce our spring new-music project: a set of concerts of member's music by Duo-B. Duo-B is comprised of violinist Hirono Sugimoto Borter and cellist Philip Borter. Three concerts have been scheduled:
Sunday, April 19th at Montauk in Clermont
Friday, May 1st at St. Ambrose University in Davenport
Saturday, May 23rd at Cedar Rock in Quasqueton
Husband and wife, Philip and Hirono Borter formed Duo-B in 2009. Their earliest performances were given at the Hochschule in Freiburg, Germany and were soon followed by successful recitals across Germany, Japan, Italy and the United States. Hirono is a member of the ICF, and Philip is on the faculty of Luther College. As an ensemble, they are dedicated to promoting the wealth of duo music written for violin and cello and has a keen interest in helping develop new compositions for the genre. Their website is located at www.duo-b.com.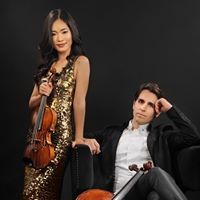 Duo-B welcomes submissions of new or pre-existing chamber music works from ICF members for this program. New arrangements/transcriptions of previous extant works are also welcome provided they have not been premiered in that version before. Submissions should be scored for acoustic violin and cello, without preparation/accompaniment in any form. The recommended length is 3-15 minutes; works longer than 10 minutes, while equally considered, may not be performed in their entirety in the performances. The duo would welcome contact, questions, and drafts from composers who are creating new work for these concerts. The duo can be contacted at duoborter@gmail.com.
Recordings are helpful in the submission process but not required. All submissions should be made electronically via e-mail to iowacomposersforum@gmail.com. Include in your e-mail:
A subject field with your last name and "Duo-B"
a brief note, describing your submission
the score of your piece as a .pdf file
a current bio (75 words or less), attached as a .doc or .pdf file: attachments of mp3 files – optional, no larger than 10MB, or links to these files.
Composers of works selected for performance will receive a professional recording of their work. If selected:
Composers must be in good standing with the ICF for 2019-20
final scores must be submitted to Duo-B by February 15th
composers are encouraged to arrange feedback and coaching of their music with the duo prior to the performance. Duo-B is based in the Decorah-Cresco area.
Deadline for submissions is February 15, 2020. Selected composers will be notified by March 1st.